Gerald Rudolph Ford, the 38th President of the United States, died today, aged 93.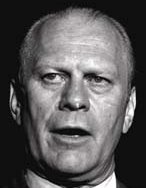 Ford was the oldest ever ex-president and the only man to assume the presidency without being elected.
Ford was appointed Vice-President in 1973, following the resignation of Spiro Agnew. He became President following Richard Nixon's resignation on August 9, 1974. Attempting election in his own right, Ford was defeated by Jimmy Carter in 1976.
Ford's most controversial decision as President was to grant a full pardon to Nixon on September 8, 1974.
One of the secretly recorded Oval Office tapes records Ford and Nixon discussing Watergate on May 1, 1973:
Listen to Ford and Nixon on May 1, 1973:

Ford was elected to the House of Representatives in 1948, serving for a time as House Minority Leader. He served on the Warren Commission investigation into the assassination of President Kennedy.
Ford's wife, Betty, released a brief statement announcing his death:
Statement from Mrs. Betty Ford.

"My family joins me in sharing the difficult news that Gerald Ford, our beloved husband, father, grandfather and great grandfather has passed away at 93 years of age. His life was filled with love of God, his family and his country."
President George W. Bush released this statement:
Statement from President George W Bush.

"Laura and I are greatly saddened by the passing of former President Gerald R. Ford.

"President Ford was a great American who gave many years of dedicated service to our country. On August 9, 1974, after a long career in the House of Representatives and service as Vice President, he assumed the Presidency in an hour of national turmoil and division. With his quiet integrity, common sense, and kind instincts, President Ford helped heal our land and restore public confidence in the Presidency.

"The American people will always admire Gerald Ford's devotion to duty, his personal character, and the honorable conduct of his administration. We mourn the loss of such a leader, and our 38th President will always have a special place in our Nation's memory. On behalf of all Americans, Laura and I offer our deepest sympathies to Betty Ford and all of President Ford's family. Our thoughts and prayers will be with them in the hours and days ahead."