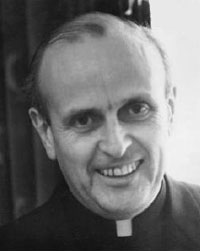 The Rev. Robert F. Drinan, the man who first filed an impeachment resolution against President Richard Nixon, has died in Washington.
Drinan served as a member of the House Judiciary Committee that voted in favour of the Watergate articles of impeachment in 1974.
The 86-year-old was a five-term Democratic Party member for the Massachusetts Third District in the House of Representatives. A liberal member, Drinan was on the famous Nixon "enemies list". In July 1973, he proposed an impeachment resolution, not on Watergate, but on the war in Vietnam and Cambodia.
Drinan was praised by Senator John Kerry as a "tenacious advocate for social justice". Kerry was Drinan's campaign manager in 1970, the year Drinan was elected to Congress.
Drinan was famous for wearing his Jesuit priest's garb in Congress. His unofficial campaign slogan was "Our father, who art in Congress". He left Congress at the 1980 elections, following an edict from Pope John Paul II that he should leave politics or the priesthood. He was succeeded by Barney Frank.
Drinan had been dean of the Boston College Law School. Over the past quarter-century, he taught legal ethics at Georgetown University.