Richard Nixon was granted a "full, free and absolute pardon" by his successor as president, Gerald Ford.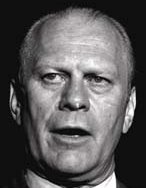 The pardon became one of the most controversial aspects of the Watergate scandal. There were allegations and suggestions that Nixon had struck a deal with Ford before resigning. Ford denied these allegations and maintained that the pardon was the only way the nation could heal the wounds of Watergate.
In the new president's own words, he was a "Ford, not a Lincoln".
Gerald Ford had been the Minority Leader in the House of Representatives. He was chosen by Nixon to be Vice-President, following the resignation of Spiro Agnew in October 1973.
Some people believe that when Ford became next in line of succession the reluctance some politicians had to remove Nixon evaporated.
When he became President on August 9, 1974, Ford spoke of the national nightmare finally being over.
Speculation mounted over whether Nixon would face criminal prosecution. A Memorandum from within the office of the Watergate Special Prosecutor, Leon Jaworski on the day Nixon resigned weighed up the arguments for and against prosecution.
However, President Ford decided to pardon his predecessor.
He made a television address on September 8, 1974 to give his reasons for the pardon proclamation.
Nixon's Pardon – Archived Posts